CPI inflation beat all estimates; Vitalik rugs SHIB and other meme coins; Elon dumps Bitcoin over "dirty power", bitcoiners fight back.
I don't have much insight on these inflation figures but am just throwing them here for informational purposes. We've known asset inflation was already here, as I discussed yesterday, but I did not see this change in the CPI coming so fast, nor did I expect it to hit four percent already. Most of the macro people I follow have been anticipating this for some time, the question is where do we go from here. Bullish BTC.
So Vitalik Buterin, the founder of Ethereum, gets lots of airdrops. Apparently token creators do it as some sort of social proof, as they can later say that "Vitalik is an investor in our project". This happens to Mark Cuban as well as any high profile whale address like the 0x_01b address or whatever it is. So that's how Vitalik wound up owning about $8 billion dollars in SHIB. These dumbasses decided to drop him Uniswap LP tokens instead of just locking them up in a timelock like most people. Vitalik's been in a very tough conundrum, a trolley problem, as one person described it. Holding the token was bullish for SHIB, and could lead to more nonsense. Selling it would hurt a lot of people. Damned no matter what he did.
The final straw was several days of network congestion on Ethereum, as gas prices remained in the 300-400 for several days. Most of the traffic was SHIIB, as well as several other clones that sprung up. Even Binance chain was affected and required people to increase gas. So VB did what he had to do, and dumped it. All of them.
You should really look at the thread above . He removed the LP, then started dumping and donating coins to charity. SHIB, AKITA, and ELON were all either dumped or given to charities including Gitcoin and a COVID relief fund for India. One person pointed out that he sent the meme coins to the charities, while keeping the ETH for himself. What this means is that he was able to deduct the full value of the meme tokens as a charitable contribution, even though the charities would in no way be able to redeem the tokens for that value. There's just not enough liquidity or depth to the market.
This seemed to trigger a minor pullback in the price of ETH, but that was nothing compared to what was about to happen. Queue memelord Elon Musk:
This caused a huge dump in the BTC price from $54-46k in a matter of hours as billions of leveraged traders were liquidated. Much of it was quickly bought up, and it's recovered to the 49.6k level as I write this. Many were quick to point out that anyone with enough BTC to actually buy a Tesla were unlikely to spend it on one, so Elon wasn't shooting himself in the foot here. There was also speculation that Elon may have been pressured by bitcoin critics on the environmental front, and that he doesn't really believe the Tesla statement personally. This article provides some additional context.
The Bitcoin community is taking this accusation as a call to arms. For months, there has been misinformation about bitcoin's environmental impact being circulated, and this Tesla tweet is the last straw for many. Many believe that bitcoin production actually creates more demand for renewable production as well as the capture of waste energy. Many bitcoin farms rely on hydroelectric, and there are companies that are capturing waste methane from gas mining rigs, which would normally be vented out into the atmosphere, to power bitcoin mining equipment. Bitcoin mining can also smooth out troughs in power demand, coming online when demand is low and shutting down when it goes back up.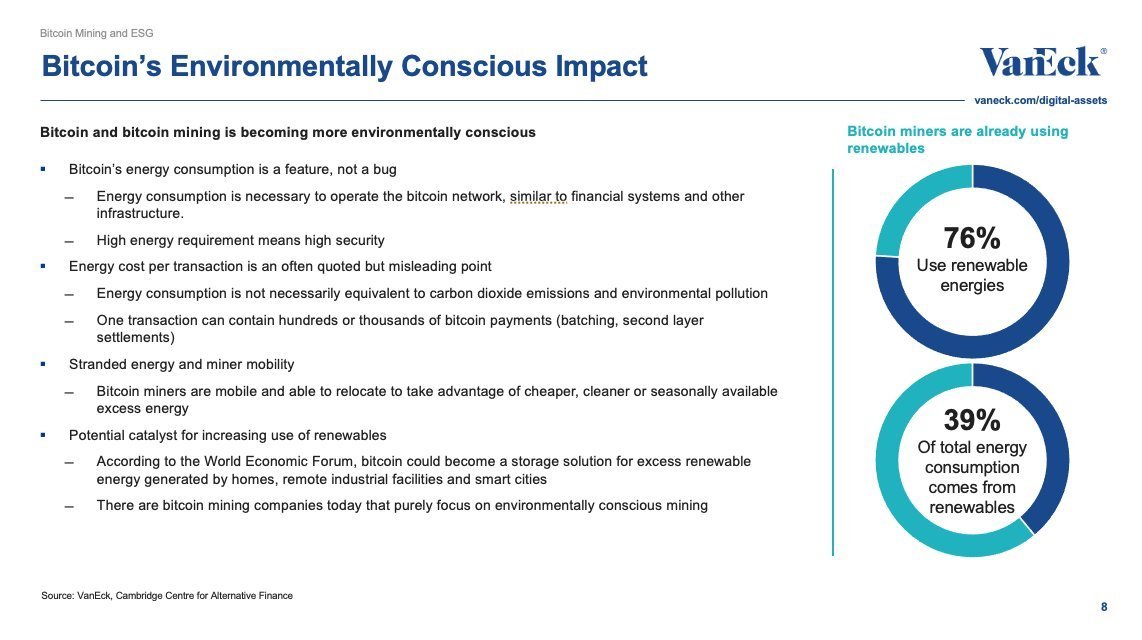 Of course that's not to say that some bitcoin production relies on fossil fuel. The Tesla statement is apparently referencing a Chinese coal plant shutdown last month that was accompanied by a significant drop in the bitcoin hashrate, which was apparently due to the fact that hydroelectric power supplies had caused many Chinese miners to shutdown and relocate following the rainy season.
Bitcoin is an easy target for many due to the fact that the hashrate is available directly on chain. While critics like to bemoan the fact that the bitcoin network uses more power than most small countries, it's not a fair comparison. No one talks about the current environmental impact of gold mining production, or the combined cost of paper currency production by every nation on earth. Those figures aren't as easy to come by. Thankfully, Ark Invest has done the math for us.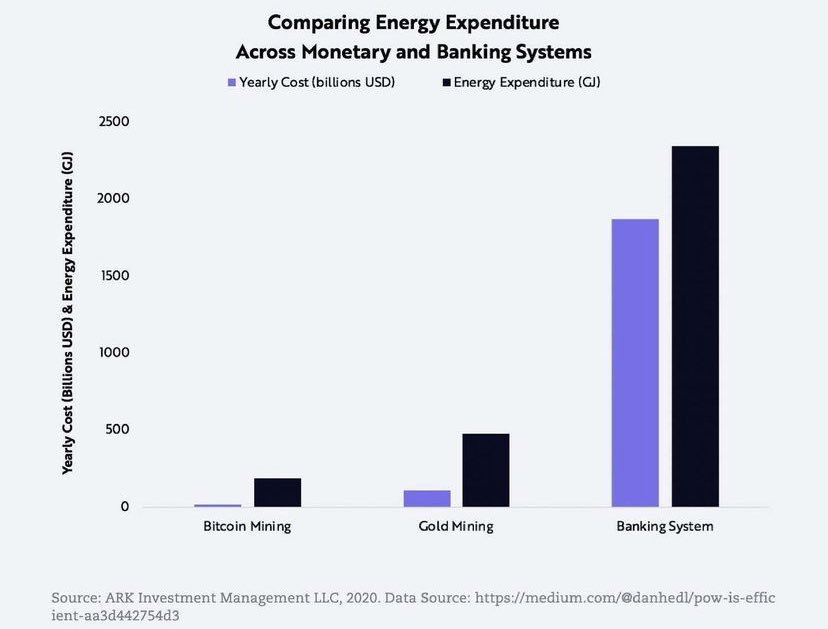 Of course for many bitcoiners, the cost of the fiat monetary system is way worse than the environmental impact of bitcoin. If we are returning to four percent inflation, or higher, then people are going to witness firsthand the damaging effects of wealth destruction, as peoples' savings are destroyed by rising prices. The next few days will likely see bitcoin's energy usage at the front of debate, and hopefully this time it can be put to rest.