I'm staying in a hotel tonight. It's not something that I usually do but there's been a couple of family events that have brought me and the crew out of town. I woke up this morning before dawn and found myself staring at this bright green light a few inches away from my face. It's probably just the thermostat or something, but it got me thinking: how long before Hilton and the other big hotel chains start putting voice assistants in rooms? 
I probably wouldn't be thinking this if the front desk had picked up the phone any of the dozen times I tried to call them last night, but it seems inevitable that there's some company out there working on a bot for one of these chains: "Alexa, I need more towels." "Alexa, how do I connect to wifi?" "Alexa, what channel is Disney channel?" "Alexa, have room service bring me dinner."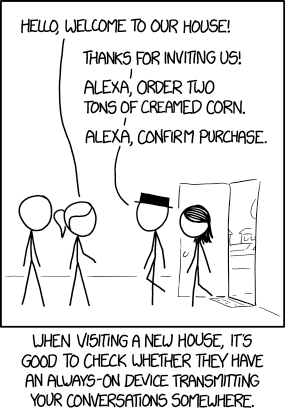 Seems inevitable. I'm sure it will be a while before people are willing to accept these things in their rooms. Some, like myself, aren't comfortable having these things in my house, let alone rooms where they are sleeping or doing other more intimate activities. I assume that the hotels could hand them out at the front desk as an option: "Would you like a virtual assistant with your room, sir?" And then I'm sure it'd be a matter of time before they'd become standard deployments the way wifi repeater seem to be everywhere. 
Update: It seems I'm a bit late to the party. Amazon released their Alexa for Hospitality in June of 2018:
Guests will be able to do things like order room service, request a housekeeping visit, or adjust room controls (thermostat, blinds, lights, etc.) using an Echo in their room. They can also ask location-specific questions such as what time the hotel pool closes or where the fitness center is.
Some upscale Vegas hotel apparently pioneered Alexas in their rooms back in December 2016, and in October of last year, Marriot announced plans to run a trial in Charlotte hotels. One thing that we didn't anticipate when we were writing this was the response of hotel staff, who saw these devices as a threat to job security as far back as September. It was apparently part of a list of concerns when  Marriott employees went on strike last fall.